Awards & Trophies
Award your innovative thinkers. The hand turned light bulb on different types of wood bases all custom made for you. $75
 Custom Awards & Trophies
I can design something special for your company or organization. I enjoy being part of the circle of appreciation.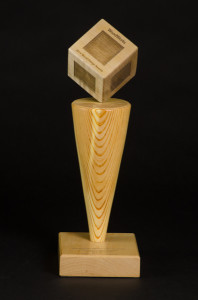 This is an award I designed for WoodWorks Inc. They give it out during a national
award ceremony every year to recognize architects and engineers that have built
extroadinary builidings in many different categories. WoodWorks, Inc. has a cube in
their logo so this design was very appealing to them.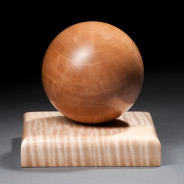 Perfect for awards, trophies and unique gifts of appreciation.
Shown above, the custom wood design piece is about 6- 1/4″ tall, wide, and deep. Beautiful Curly Maple base with a Cherry Sphere. $150.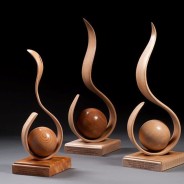 Custom Awards
I admit! Sculptures are my favorite thing to make. These sculptures are very popular for awards that will be presented in front of an audience. I make each one a little different. I like to think of the curved wood wrapping around the earth as a protective shield.
There are different ways to have your logo or engraved message added to the piece. Available in four different sizes, the small one is about 6-7″ tall, medium is about 12-14″ tall, and large are about 22″-24″ tall.