Unique Gifts
Unique Gifts
This is made out of African Mahogany. It is ready to sit on your square corners in your home. It is about 12″ long and 5″ tall.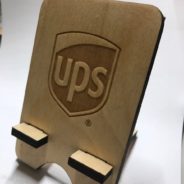 I introduced these in 2017 and they have been a hit.
You can place your phone either vertically or horizontally and charge it while it is in this stand. Don't loose your phone on your desk anymore.
I can engraved your logo on it. I make these out of high grade 1/4″ cherry plywood. There are two pieces. You just slide the "leg" piece through and it provides a shelf for your phone. If you have a phone without a case you can put some rubber bands on the tabs to keep it from sliding. Most phones do not need anything.
There is a $20 engraving set-up fee.
Gift boxes add .75 each
Less than 100 price is $12.95
100+ price is $10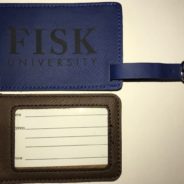 These are made out of leatherette material. It feels and looks like real leather. You can choose blue or brown or both.
It is 4 and 1/4 long x 2 and 3/4 tall. Using up to 2″ tall x 3.5″ wide area for engraving is best.
$20 engraving set-up fee.
Gift boxes add $.75
Less than 50 price is $10 and 50+ price is $8.The bottom one shows the back side of the brown option.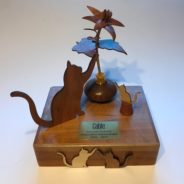 This is another example. This one was for a cat lover who loved to garden. I learned that her favorite flower was Trillium and made it entirely out of wood. I turned a flower vase to put it in. Then I turned the common clay flower pot and perched the kitten on it. The cats are reaching for the flower. She actually loved to travel and had been all over the world. I cut out her favorite countries and attached them to three sides of the base. You can't see those in this picture. As a cat lover myself you should have seen one of my first models. I had about 9 cats that increased in size it perfect increments going in a circle. Perhaps a future project?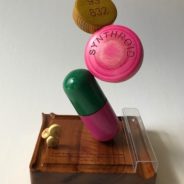 This is a retirement gift I did recently. I was told there were five generations of pharmacists in the family. I knew there were probably far too many mortar and pestles in their gift collections! People come to me for gifts that will really make an impression.
After considerable thought this is what I came up with. Sparing you lots of details here are a few highlights. I decided the base could be like the tray they count pills on. I made the capsule and two "main" pills. I balanced it out with three small pills with the recipients name spelled out with one letter on each pill.
I like to hear about the person you are honoring. Let me think about some ideas on how to create a piece that will really surprise them and make them happy. Why do ordinary gifts when you can do extraordinary?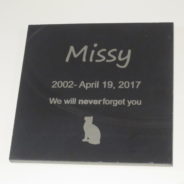 The memory of your beloved pet will be forever etched in this beautiful black marble. 3.8″ square or 6″ square. $35 and $50 respectively. Let us know what you want engraved. You can keep this in the house or in the garden outside.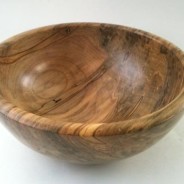 SOLD-Ambrosia Bowl. About 10″ diameter and 4″ tall. Food safe finish. Like most wood items it will last for decades. It would make a nice  wedding gift. We will post another view of it next to this post.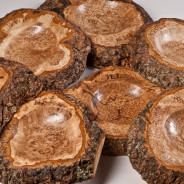 Unique Gift for Groomsmen
Engraved with the wedding date, these unique wedding gifts were a hit with the groomsmen. The burls were designed to put wallets, keys, and change in. We only have this wood on hand occasionally, so please call early with your event date.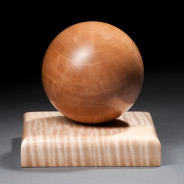 Perfect for awards, trophies and unique gifts of appreciation.
This piece was about 6- 1/4″ tall, wide, and deep. It had a beautiful Curly Maple base with a Cherry Sphere. I would engrave on the base or engrave on a piece of metal and add that. I add a nice piece of leather like material on the bottom of all sculptures. When you set it on a table it exudes quality. It's a very different feeling than a wood piece with nothing or little silicone or felt patches.
Something like this would be in the $150-$175 range.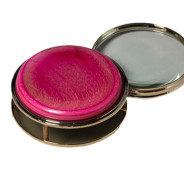 Pink magnifying glass gift is $35 and can be custom engraved for $40. The magnifying glass swings out from the middle of the paper weight. Engraving set-up fee is $20.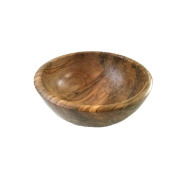 Ambrosia Wood Bowl
SOLD- Our bowls make very nice wedding gifts, or anniversary gifts that will last for decades. We use food safe finish and 10″ diameter and 4″ tall.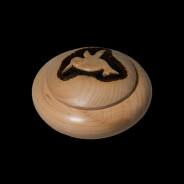 This maple box has a Hummingbird carved in the lid. Then I burned a little around it. She has an egg residing in the box. It is about 4.5″ in diameter and 3″ in height. SOLD but can make a similar piece.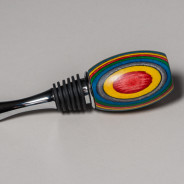 A colorful long lasting gift. These are an excellent choice for all sorts of celebrations. Bring a bottle of champagne and one of these. This decorative stopper will remain as a beautiful reminder long after the bubbly has gone. It is dyed and laminated birch. This has a high quality chrome part with silicone.  We can make these in many different shapes. If it is a solid wood they are $20. This laminated birch is $25.