Corporate Gifts
Corporate Gifts & Logo Items
Matranga Wood Designs is the premier company for custom corporate gifts in the Nashville and Middle Tennessee area.
Maple and Rosewood business card holders
These fold open and can stand up on your desk. Please contact us with how many
you need and we can provide a quote. To give you a reference point 100 pieces
in a quality gift box are usually less than $16 depending on how much engraving.
We need a black and white EPS file to produce the clearest
engraving. There is a $15 engraving set-up fee.
The leather measures 2 and 3/4″ long x 1 and 3/8″ wide. The quality metal ring is
1 and 1/8″. The laserable area is 1 and 3/4 inches x 1″. You can order any quantity.
500 pieces typically less than $3 each plus a $15  engraving set-up fee. Let us know how
many you need and we can provide a quote. unique-gifts@comcast.net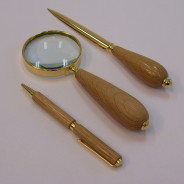 Perfect for corporate or colleague gifts, we offer as a desk set, as well as the items individually. The 10k gold plated pen uses a standard Cross style refill and is $30. The letter opener is solid brass with 10k gold plating and is $40.
The hand held magnifying glass has the same high quality 10k gold plated parts and is $40. We know good magnifying glasses are hard to find. We have three styles. The mini magnifying glass necklace, the traditional hand held magnifying glass like you see here, the the popular Magnifying Glass/Paper Weight. There are different box options and engraving options. Quantity discounts of course and many woods to choose from. The desk set pictured above is in Oak.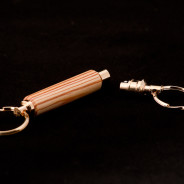 Custom Detachable Key Ring
A detachable key ring is hard to find. These have 10k gold plated parts. They are handy for keeping your house keys out of the hands of strangers.  Also for separating keys for all kinds of reasons.
$14.50 + engraving and $15 engraving set-up fee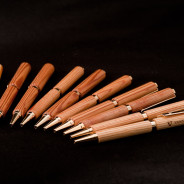 Custom Corporate, Colleague and Leadership Gifts
These beautiful ball point pens use standard Cross style refills. Simply twist the pen and pull apart to replace. They have the finest 10k gold plated parts and laser engraving is optional. Pens are $30, laser engraving adds $5.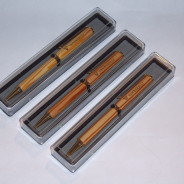 Corporate Gift Pen
These laser engraved pens are made from a salvaged beam from the Vanderbilt's Owen School of Business. Pens are a great corporate gift item, employee anniversary gift, association or organization gift.
$35/Each
$15 laser engraving set-up fee
Plastic cases add $3 each
QUANTITY DISCOUNTS AVAILABLE
NO MINIMUM ORDER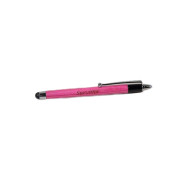 These beautiful dyed birch pens make wonderful gifts for anyone who has dealt with breast cancer. We have discovered that everyone has survived many different things. One of these went to a passenger that was on the famous "Miracle on the Hudson" flight. The soft tip works nicely on iPads and such. $25 including engraving.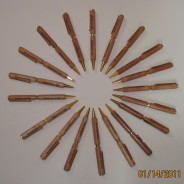 These high quality 10k gold plated pens remain one of our most popular items. They use a standard cross style refill. They are $35. We offer different options for presenting them. A black velvet sleeve, plastic case, wooden case, engraved wooden case. These are excellent gifts to take on trips as they take up very little room in your luggage.
These are one of our most useful items. Many of our corporate gift customers like items their recipients can put to use and have their logo prominently displayed. I personally like to keep things my most important things in my memo holder because they won't get lost in the shuffle. This one is maple and was designed to accommodate laser engraving. If you do not want engraving I usually will make a curved base. Only $25.
ENGRAVE YOUR LOGO FOR JUST $5 EXTRA
$15 engraving set-up fee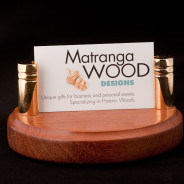 This makes a great corporate gift. We can have your name or logo laser engraved on the base. The posts are solid brass covered with 10k gold. It is about 5.5″ in diameter. As with any of our items please let us know if you would like to have a different type of wood. $75. Quantity discounts are available.