University Gifts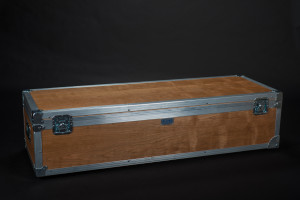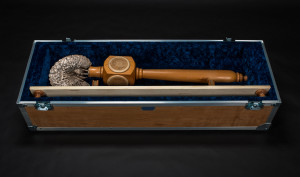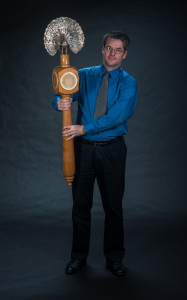 University Faculty & Alumni Gifts
Many of these items are popular with faculty, staff, and alumni. The ceremonial mace is our specialty. Give us a call or email us to start the exciting process of creating an affordable, custom mace you can be proud of.
See this video where one of our universities describe the importance of having a mace at the school and see the mace we designed and made for them in use. https://www.youtube.com/watch?v=qnxOEgRagS4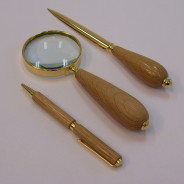 Perfect for corporate or colleague gifts, we offer as a desk set, as well as the items individually. The 10k gold plated pen uses a standard Cross style refill and is $30. The letter opener is solid brass with 10k gold plating and is $40.
The hand held magnifying glass has the same high quality 10k gold plated parts and is $40. We know good magnifying glasses are hard to find. We have three styles. The mini magnifying glass necklace, the traditional hand held magnifying glass like you see here, the the popular Magnifying Glass/Paper Weight. There are different box options and engraving options. Quantity discounts of course and many woods to choose from. The desk set pictured above is in Oak.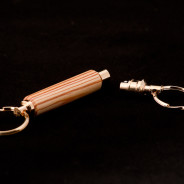 Custom Detachable Key Ring
A detachable key ring is hard to find. These have 10k gold plated parts. They are handy for keeping your house keys out of the hands of strangers.  Also for separating keys for all kinds of reasons.
$14.50 + engraving and $15 engraving set-up fee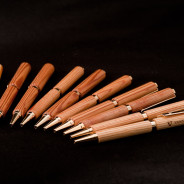 Custom Corporate, Colleague and Leadership Gifts
These beautiful ball point pens use standard Cross style refills. Simply twist the pen and pull apart to replace. They have the finest 10k gold plated parts and laser engraving is optional. Pens are $30, laser engraving adds $5.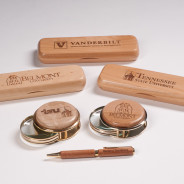 Custom Faculty & Alumni University Gifts
Faculty, alumni, staff and friends of the school love various desk set items. The engraved pen can have accompanying engraved cases as shown here. The engraved magnifying glass/paper weight is a very popular item and will adorn their desk for years.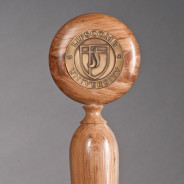 Almost all universities and free-standing colleges have a mace, used almost exclusively at commencement exercises and carried by either the university or college president, chancellor, rector, provost, the marshal of the faculty, a dean or some other high official. In some universities that have a number of constituent colleges or faculties, each college, faculty or school often has a smaller mace, borne in procession by a dean, faculty member or sometimes a privileged student.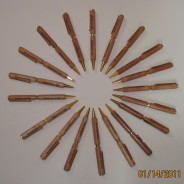 These high quality 10k gold plated pens remain one of our most popular items. They use a standard cross style refill. They are $35. We offer different options for presenting them. A black velvet sleeve, plastic case, wooden case, engraved wooden case. These are excellent gifts to take on trips as they take up very little room in your luggage.